Since May, I've been on vacation from my part-time job. I was a bit apprehensive about not having my 'fun' money but I was also excited about having some time to enjoy other interests. Being off has yeilded two huge payoffs: time to write and time to be home, unhurried sharing space with my guy.
Back to the money. I'm a lousy money manager and I'm getting better. My guy is very good with money. When I told him I was concerned, he told me not to worry. During this extended weekend we talked about how this past week had been leaner than most (because he pays every bill on time in full). He asked me what has changed since I've been off. Have I eaten less, felt deprived, has our standard of living taken a hit? The reality is actually the opposite. Paying closer attention to how I spend money and having less of it has meant having more: more time together, better food, more peace.
Being off, I've been actually cooking for him. Our meals are simple and satisfying. We eat together more often and we talk. We have always enjoyed simply talking and we have so much more time to enjoy each other's views. I don't miss shopping like I thought I would. And when I do want or need something, I now happily enjoy thrifting. I'm still purging. When I bring something in, something is going out. And more goes out that in.
For a recent writing prompt, I wrote about getting an Airstream and following the road with no map. DH read my

piece

and asked why not? We're looking forward to changing our address and lifestyle. Dear Daughter needs us now but not forever, and when we're sure she's okay, we're out of here. I'm not talking wishful, daydreaming either. I've started my homework, checking out used Airstreams and looking at double-wides, too. DH has a patch of land far away to be free of busyiness and close enough that we can buy groceries and supplies.
More later. I need to resume some purging because a tin can doesn't hold much, and all I need to hold onto has two legs and a big heart. I'm getting ready for a road trip.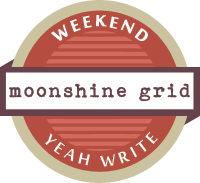 Join us