So what does the minimalist do when she's too fat to wear her clothes? This fatty embraces the opportunity to pare down. If fatty offends you, please note this is a self-description that works for me. I'm focused on my issues, people. Back to the topic around the middle. This summer I put on significant weight, and I have a few ideas why (yes, that extra chocolate didn't help matters): perimenopause and new medication, not excuses but certainly factors I can't change, which means I must change my dietary and exercise habits if I want to lose this beer gut (and I don't even drink).
Yes, I talk in circles and yes, I'm getting to a point here. It's fall and I have lovely clothes for my favorite season, and I need to wear lovely clothes especially for my part-time gig, but there's no way, round belly me is going to fit the majority of what I own. What's a gal to do? Hit the resale shop for a few pieces to get me through and kick start my ingenious knack for making multiple ensembles out of minimal items. Who says minimalists aren't chic and beautiful?
Look, I've done frumpy. Not a good look and extra weight be damned, I need to look good because looking good, feels good. I don't have body image issues. I have a weight issue. And I will not suffer my mother ever telling me again, "Tonya, there's no reason for you to be frumpy." Have I mentioned my mother is gorgeous? Always has been. She's also too thin, but hey, we each fight our own battles. And mommy is looking good and putting some weight back on.
Me, I'm pulling out my fall/winter wardrobe. Hanging up my sexy, go-on-with-your-badass plaid mini skirt, I bought in the spring for motivation, and I'm going to do some lovely matching with what actually fits in the meantime.
In case you think I'm simply being vain, let me say there is nothing remotely healthy about being overweight. My kinfolk push up daisies fairly early so this fatty is on a mission for my health as well as my diva self. My middle years have been good despite the challenges.
Be well.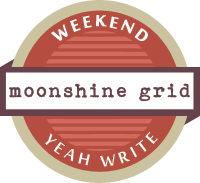 Join
us